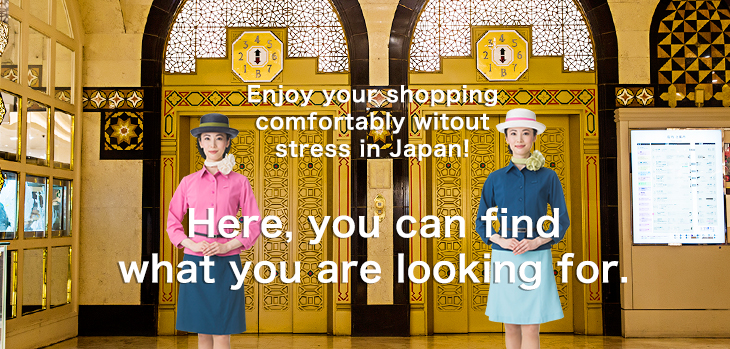 Transport / Access
Access by train
Yabacho Station subway Meijo Line - Take the underground passage direct connection (exit 5 or 6) / Sakae subway station - Take exit 16 walk 5 minutes to the south
Access by car
For convenient access take the Nagoya Highway Shirakawa exit, Toshincho exit and approach from Higashibetsuin.
Parking Guidance
Purchase by car is convenient, too
Please be certain to bring your parking ticket.
If you spend more than 5,000 yen (inc tax) or more than 20,000 yen (inc tax) on purchases in one day then we will allow you 1 hour or 2 hours free parking, respectively.
※JTB is excluded.
※Contract parking lot of Yodobashi Camera is only 1-3, 12.
Method of payment
We bring stationed-in-bike-race ticket (belonging to bar code) by all means, and use, please show the following (1), (2), (3) parking lot to salesperson at the time of shopping accounts.
Use puts stationed-in-bike-race tickets together with purchase receipt after bringing by all means, and please show parking lot of following (4) ... (29) in the information desk.
No.
Parking lot ・
Name of Parking Area
Business Hours
Phone number
Parking Limitations
Height
Car width


(width X length)

Weight
1
Matsuzakaya South Building
Parking area

entering times


From 9:30 to 21:00


exiting times


From 9:30 to 22:30
052-251-1111
2.1m
2.0*6.0m
2.0t
2
Angel park
Parking area
From 7:00 to 23:00
052-261-5746
2.0m
2.0*6.0m
3
Angel Building
Parking Area (Matsuzakaya North Building)
entering times
From 8:00 to 21:30
exiting times
From 8:00 to 23:00
052-262-6546
2.1m

car length
5.0m

2.0t

4
Park Place
Parking area
From 7:30 to 23:00
052-262-6341
2.1m
2.0*5.3m
4.0t
5
Yamasan Parking
From 7:30 to 1:00
052-241-0195
2.1m
car length
5.0m
2.0t
6
Great Kazue
Parking
24 hours
052-249-0666
2.1m
car width
2.5m
7
Yaba Park
Parking area
From 7:00 to 23:00
052-261-8861
2.0m
2.0*6.0m
8
Nadir Park
Basement Parking Area
24 hours
052-265-2850
2.1m
2.1*5.3m
9
Itomasu Parking Area
24 hours
052-262-7101
2.1m
1.7*5.0m
10
Sakae Sky Park
Parking area

Parking Area 1


From 8:00 to 23:00


Parking Area 2


From 8:00 to 22:00

Parking Area 1


052-241-7345


Parking Area 2


052-241-7251
1.55m
1.8*5.0m
1.9t
11
Tower Park Nishiki
24 hours
052-951-8775
1.55m
1.95*5.0m
1.9t
12
Shiei Hisaya Parking Area
From 7:00 to 0:00
052-261-8505
2.1m
2.4*6.0m
13
Art Park Tokai
From 7:00 to 0:00
052-972-0806
2.1m
2.0*5.3m
14
Sakae Bra B
Parking
24 hours
052-269-2697
2.1m
car length
5.3m
15
Meitetsu Kyosho parking
Breathe; one garden
24 hours
052-249-8798

2.1m

Aoizora Parking Area
2.5*5.3m
16
Tea Fass
Sakae 4
Parking Area 2
24 hours
Aoizora Parking Area
17
Shuttle 136
Parking
From 7:00 to 2:00
Sunday/Holiday
From 8:00 to 22:00
052-241-9368
1.5m
1.85*5.0m
1.6t
18
Shoei park

From 8:00 to 1:00

Sunday/Holiday
From 8:00 to 0:00

052-252-2182
19
Sakae Members
Office
Building Parking Area
From 8:30 to 2:00
Sunday/Holiday
From 9:30 to 20:00
052-261-1100
1.58m
1.85*5.05m
1.6t
20
Honor M
Parking
24 hours
052-262-7250
2.0m
2.0*5.0m
21
M technical center
Mizukame
Parking
From 7:30 to 0:00
052-241-5959
1.55m
1.8*5.0m
1.5t
22
Tajima Parking Building
24 hours
052-262-5053
2.0m
2.0*5.0m
23
Hasegawa
Parking
From 7:30 to 22:30
052-263-0480
1.55m
1.8*5.0m
24
Wakamiya Park
24 hours
052-251-7581
2.1m
2.5*6.0m
2.0t
25
Brother
Parking honor
From 7:00 to 0:00
052-242-5607
1.55m
1.7x4.9m
26
PARCO first parking lot
From 9:15 to 23:30
052-264-3558
2.5m
27
Parco South Building Parking Area
From 9:00 to 23:00
052-264-8564
1.55m

(*)


1.8*5.0m


(large size)


1.9*5.0m
Solid
28
PARCO second parking lot
Open 24 hours
052-264-8565
2.0m
29
PARCO third parking lot
From 8:00 to 23:00
052-252-7182
1.55m

(*)


1.85*5.0m


(large size)


2.05*5.3m
Solid