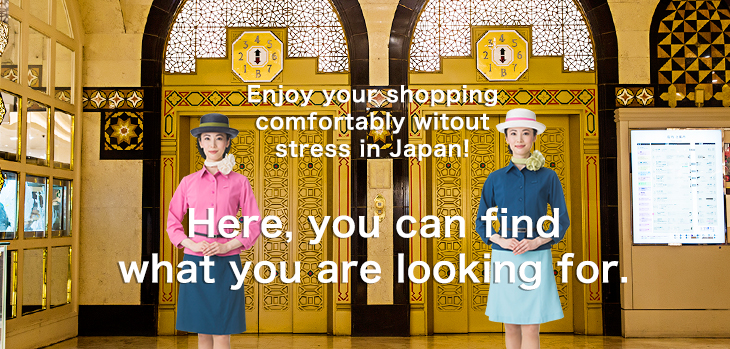 Event Calendar
Main Building the seventh floor art art gallery
Main Building the sixth floor exhibition space
| | | |
| --- | --- | --- |
| Friday, December 15 → 30th Saturday | Year-end special plan Hokkaido food fair | Let alone familiar crab salmon, lunches of luxurious sea foods, yakiniku assemble in full force! Gelato shop which won the championship at international meeting of open gelato as Japanese for the first time in Italy of popularity <forest of squirrel> appears in famous drive guidebook in addition to the first branch of <sushi and better field> from <noodles and 169>, Abashiri of publication. ※Closed at 17:00 on the last day |
Main Building the fifth floor event space
| | | |
| --- | --- | --- |
| Wednesday, December 13 → 25th Monday | Christmas gift fair | Best recommended "mini-muffler" and "knit" introduce "leather accessories" to Christmas gift of this year. |
| Tuesday, December 26 → 31st Sunday | Year-end bargain sale | We offer men's miscellaneous goods item including knit and muffler at bargain price. |
Main Building the fourth floor event space
| | | |
| --- | --- | --- |
| Wednesday, December 13 → 19th Tuesday | Winter knit & coat sale | We provide mainly on knit (design sweater), coat (wool down, batting coat) of item playing an active part right now. ※Closed at 18:00 on the last day |
| Wednesday, December 20 → 26th Tuesday | Fur Collection | We prepare abundantly and, from fur coat, leather coat to fur accessory, introduce. ※Closed at 18:00 on the last day |
Main Building the second floor event space
| | | |
| --- | --- | --- |
| Wednesday, December 13 → 25th Monday | <smart canvas> shop for a limited time | Clock <smart canvas> which informs time by close indication using paper liquid crystal. Including collaboration item with characters, we have lineup of pretty clock becoming fun. |
| Wednesday, December 13 → 25th Monday | <AVOCA> Limited-Time Shop | We are proud of the history in Ireland for a little less than 290 years <AVOCA (avoka)>. We introduce tableware having a cute good-quality textile featuring bright hue and pop original print, bag, accessory which we want to have every day beautifully. |
Main Building mezzanine event space
Main Building, 1st floor, North Exit, Event Area
| | | |
| --- | --- | --- |
| Wednesday, December 13 → 19th Tuesday | <anjierinafiore> | We introduce bag, accessory which is good to gift from simple, functional design, usual times errand. |
| Wednesday, December 13 → 19th Tuesday | <Praia bulldog> | It is design and snakeskin bag brand featuring abundant color variations which it is simple and is easy to use. |
| Wednesday, December 13 → 25th Monday | <Swarovski> | Let alone jewelry, we have to ornament of watch and crystal abundantly. |
| Wednesday, December 13 → 25th Monday | North European miscellaneous goods feature | Around doll "norudikanisse with North European fairy "Nissei" as motif," we offer decorations & gift item coloring Christmas. |
| Tuesday, December 26 → Tuesday, January 2 | <national fur studio> | We offer new item of this term made in Japan with limited number of special prices. We introduce new item of mouton gloves of favorable reception every year. |
Forest of Main Building the first floor cheeks town 1 chome Western confectionery
| | | |
| --- | --- | --- |
| Wednesday, November 1 → Saturday, March 31 | <ARDEUR> | Patisserie which sets up main store in Kyushu, Hakata. We introduce tart and popular macaron. |
| Wednesday, December 13 → 20th Wednesday | <natural one> | We have date, raisin, dried fruit of sugar nonuse including fig. |
| Thursday, December 21 → 25th Monday | <ad rear confectionery> | Continue being loved at downtown area mall of Higashijujo; and confectionery where is popular cake of 49 years. We offer Christmas cake this time. |
| Tuesday, December 26 → Tuesday, January 9 | <Leonidas> | Chocolate brand of Belgian Royal Family government contractor that Leonidas was founded in Brussels of Belgium in 1913. Please enjoy praline featuring melting only by 100% of cocoa butter. |
Main Building the first floor cheeks town 2 chome Edo Shinmachi
Wednesday, December 13 → 25th Monday
<*so silk pudding>
Please enjoy the smooth pudding layer and bitter caramel layer such as silk which was particular about egg and fresh cream of adult preference.
Wednesday, December 20 → We sell Christmas cake on Monday on 25th.
Tuesday, December 26 → Tuesday, January 9
<Tokyo Hiyoko>
Excellent cake Hiyoko which was wrapped in happy red-and-white koso. We offer greeting the New Year cake of New Year holidays-limited package with a limitation of amount.
Village of Main Building the first floor cheeks town 3 chome Japanese confectionery
| | | |
| --- | --- | --- |
| Wednesday, October 25 → Tuesday, January 9 | <Taneya> | Of material seasonal commencing with representative famous confection "include Tenpyo" send cake which finished characteristic carefully. |
The first floor of the Main Building basement cheeks town exhibition space
| | | |
| --- | --- | --- |
| Wednesday, December 13 → 22nd Friday | Taste feature of Ueno shop popularity | <kantaoku> We lose and see, and, tuna sushi, <Dining man*> Satsuma braised pork belly, deep frying opens a store <Yokoyama Kamaboko restaurant>. |
| December 23 (soil, celebration) → 25th Monday | Christmas fair | <Paul Bocuse> a lot of roast beef, <MOS BURGER> MOS chicken, <kantaoku> tuna sushi open a store. |
| Tuesday, December 26 → 31st Sunday | Year-end bargain sale | <Nadaman> Red and white, <sea north bower> raw delicacy (until December 28) open a store in New Year dishes, super <Suzuhiro kamaboko> blue-ribbon Kamaboko ancient and modern times. |
The first floor of the Main Building basement subway communication tax in proportion to the number of people event site
| | | |
| --- | --- | --- |
| Wednesday, December 13 → 19th Tuesday | <*oku> | Please appreciate Japanese yam grated yam with soup stock. |
| Wednesday, December 20 → 25th Monday | <Castagna> | We introduce fried pudding frozen desert "katarana" of new texture to be able to enjoy for ice sense. |
| Tuesday, December 26 → 31st Sunday | <KANEZAKI of kamaboko> | We have New Year dishes of KANEZAKI pride kamaboko product including red-and-white boiled fish paste on a board and datemaki of mascot. |
The first-floor PARCO_ya side Ueno under the ground is not crowded. Station
| | | |
| --- | --- | --- |
| Wednesday, December 13 → 31st Sunday | motofuku Craft&Style | <YOHEI NOGUCHI> <JISS> opens a store until Sunday on 31st from <room no.6>, Friday, December 22 until Sunday on 31st from <Little Riddle (little Ridol)>, Friday, December 22 until Thursday on 21st from <hinoho> <le chemin (rushuman)>, Sunday, December 17 until Thursday on 21st from beads & bag <Tan Tan>, Wednesday, December 13 until Tuesday on 19th from <sakurasaku>, Wednesday, December 13 until Saturday on 16th from Wednesday, December 13. |